Christenson Johnson LLC Participates in Local Alzheimer's and Dementia Events
"Team Christenson Johnson Goes the Distance" participated in the Madison 2016 Walk to End Alzheimer's on October 2, joining hundred of others in raising awareness and support to help those living with Alzheimer's disease.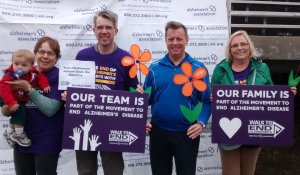 Christenson Johnson, LLC continues to support the efforts of local groups for those living with Alzheimer's and dementia, with awareness and educational events.
Attorney Mark Johnson will speak at the local Alzheimer's Association's seminar on Legal and Financial Planning for Alzheimer's Disease, at the Sun Prairie Public Library on October 4 at 6:00 p.m.
Attorney Johnson will also present with a panel of attorneys on October 11 for the Dane County Dementia Friendly Financial Network, an area group of financial and legal professionals, to discuss the benefits and drawbacks of various financial arrangements, such as powers of attorney, joint accounts, and conservatorships, especially for individuals with dementia.